How To Play Football Fortunes Online
How to play Football Fortunes online on the Tabletopia platform.
What do I need to play the game?
A Tabletopia Account!
First up create your account at Tabletopia.com The Football Fortunes page can be found here https://tabletopia.com/games/football-fortunes From the page you can decide how many players you'll play against from 2-6, click on the links for that size of game and bam, you're in!
Tabletopia will take care of the board, dice rolls, cards, tokens and all of the physical stuff you would normally do in the real world.  
Share your Tabletopia room code (looks like #EFYTFY) with your pals and they'll be able to find you.
Important! Remember to shuffle all of the card decks when getting started, right click and choose shuffle!
Ready for the next step?
Get Some Screen Sharing Software to Share The Football Fortunes App
Football Fortunes requires people to be able to talk and to share the app to play the game, thankfully there are a number of options available to make this easy.
You'll need a web browser to access the online version of the Football Fortunes app. And you'll need screen sharing software such as Google Meet, Zoom or Microsoft Teams to share the app among your fellow players and to provide the audio and maybe video needed to play. Google Meet is completely free and unlimited with a Google account.
Set up sharing? Share your link either in the Lobby chat in Tabletopia or via email or messenger.
Okay last step!
Where do I get the Football Fortunes Online app?
We've made a modified version of the Football Fortunes app especially for playing online. This version doesn't roll the dice for you, nor does it show cards such as Manager's Luck and Selection Problems they're now 'real' cards on the virtual table. We did this to minimise having to switch between Tabletopia and the app to make the gameplay smoother. Open the app in your web browser at https://playonline.footballfortunes.co.uk/
With the online app running in a browser window, use the Screen Share function of whatever screen sharing software you've chosen to share it among your buds. You can do this in the chat window in the bottom right of Tabletopia to make it easy for people to use the link.
A couple of tips. Because the app is online it can't be saved so if you close it you've lost where you are for good! Also don't use the back button in your browser, that will also lose your place. Once it's running keep it running!
Note that the app is still not suitable for phones and neither is Tabletopia. You'll need a laptop or desktop to play at the moment.
Also you'll want to get familiar with the Tabletopia environment and especially the short cut keys which are very helpful when intersacting with the virtual table.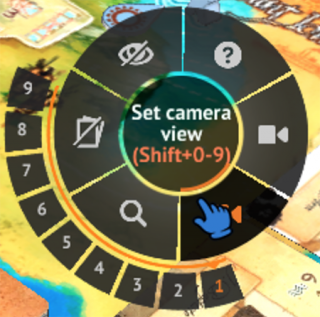 Got the app ready to go? Shine on you crazy diamond.
Okay so you should have:
Your Tabletopia table open in one tab
The Football Fortunes Online app open in another tab
Screen sharing software sharing the online app and audio / video with your buds
We'll have some tutorial videos very soon.
All present? You're ready to play! Grab the latest set of rules from here and enjoy.
We'll be starting online tournaments for our Season Ticket holders from October on. Find out how to get a Football Fortunes Season Ticket here https://www.footballfortunes.co.uk/the-football-fortunes-fan-club/
Signing up for a premium Tabletopia account at only $4.99 per month will allow you to play with more than 2 players, please note that only one player needs a premium account to allow 3-6 players to play online.